Ibiza is a ruggedly beautiful island in the Mediterranean, about 100 miles off the coast of Spain. It's best known as the epicenter of electronic dance music, and most tourists come to dance and enjoy themselves in the warm sunshine.
Ibiza's main city is known as Ibiza Town (or simply Vila), and it's on the south part of the island. Other major resort areas (each with a range of beaches) include Portinatx in the north, San Antonio in the west, and Santa Eulalia in the east. Even the farthest beach takes no longer than an hour to access from any other part of the island.
The beaches on Ibiza range from wide, well-manicured carpets of sand to rocky beaches in rugged, unspoiled coves, surrounded by cliffs. The environments around these beaches also vary wildly: Some beaches are fronted by developed promenades filled with hotels, restaurants, and cafés, while others only have small beach huts or "chiringuitos" selling snacks and drinks.
Ibiza is a territory of Spain, and Spanish is spoken here, but the residents speak mainly Catalan, a language unique to the region. English is spoken by most people who work in the tourist industry.
Discover the best places to soak up the sunshine on the island with our list of the best beaches in Ibiza.
1. Benirrás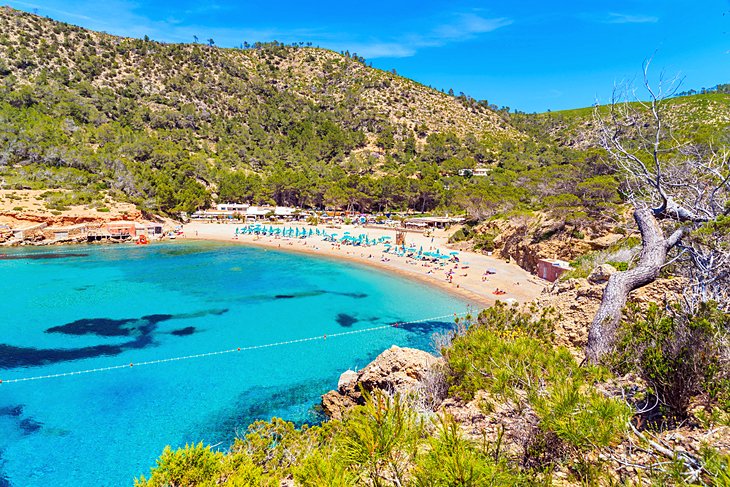 Benirras beach is on the northwest coast, near San Miguel. Benirras is known for its beautiful sunsets, bohemian vibe, and spectacular scenery.
It's a small cove, and part of the beach has fishermen's shacks, where they clean their catch after fishing all morning. It's the perfect combination of the area's sheer physical beauty; a compact, well-protected, beautiful white beach; and the lack of development that make it the ultimate Ibiza beach.
The small beach has coarse, rocky sand, and the edges of the beach are rocks, not sand. Aside from the spectacular sunsets, the beach holds a famous drum circle on Sundays at sunset. The water is crystal clear, like an aquarium.
There are some small chiringuitos selling food and drinks, as well as beach chairs and umbrellas for rent.
2. Ses Salines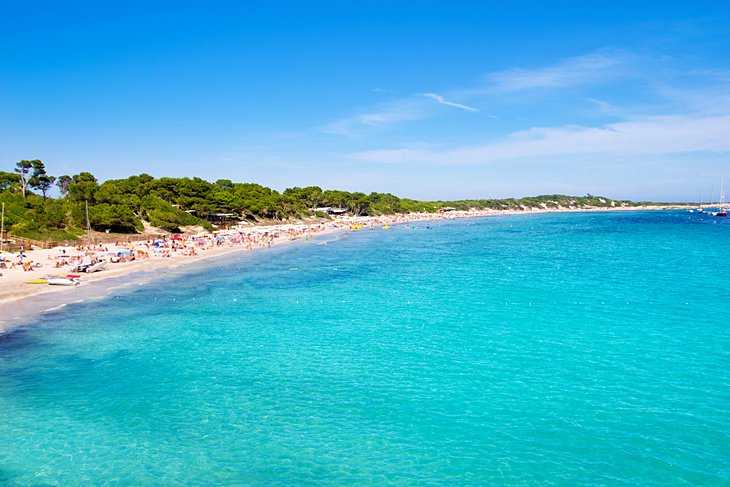 If you want a remote, rugged beach but like cafés, electronic dance music, and funky stores, Ses Salines is for you.
Named for the salt flats and marshes nearby, this is a broad, wide beach with soft, fine sand. It's popular and can be very crowded during the summer. The sand is powdery soft, and the water is especially clear here. Beyond the beach, there's a nature reserve, an attraction worth exploring.
The ocean's saline content is high on this side of the island, so it's a great place for floating around in the sea. Like everywhere else on Ibiza, there are DJs spinning music all day long at the cafés and beach clubs. Everywhere you go, you will hear electronic dance music.
Restaurants, music venues, and small shops line the beachfront. Some of the establishments rent sun loungers and beach chairs, and there are plenty of beach vendors working the sand.
3. Talamanca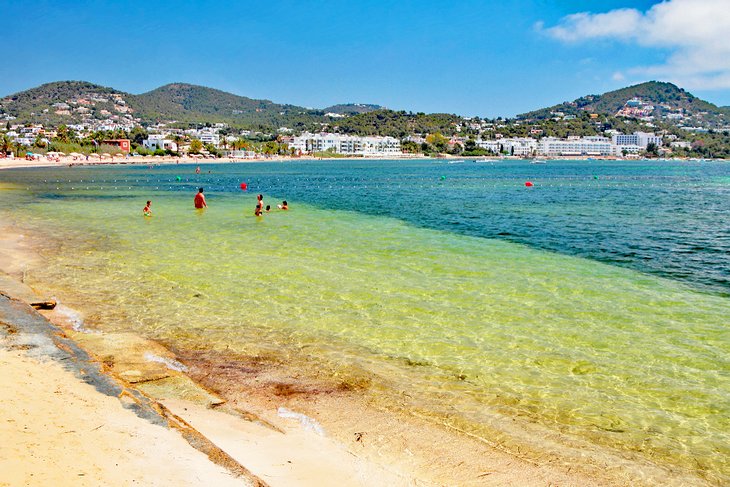 Talamanca is a long, curving beach, only a mile from Ibiza Town, right next to the cruise ship port. It's easy to get to but has a fun, laid-back vibe.
There's a wooden boardwalk on the beach lined with cafés and restaurants. You have a full range of water sports rentals, along with multiple beach volleyball courts. There are several lifeguard stations along the beach. Beachgoers can set up on the sand, or you can rent a sun lounger and an umbrella.
4. Playa d'en Bossa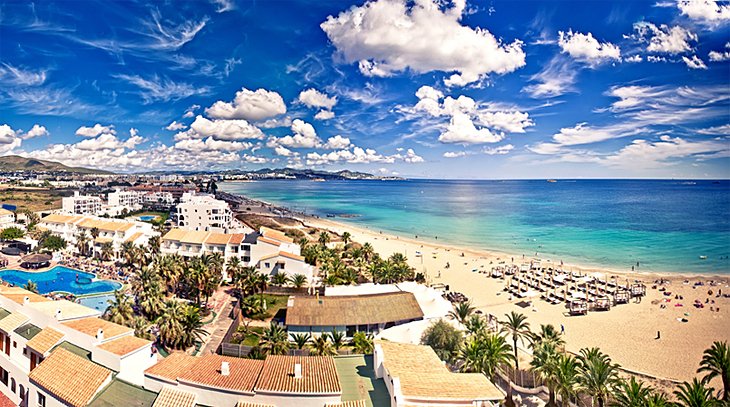 This is Ibiza's longest beach and the most commercial in terms of beachfront shops and cafés. It's about 10 minutes from Ibiza Town, and the promenade is lined with entertainment venues, restaurants, and shops.
During the busy season, Playa d'en Bossa is crowded and lively, and music is playing non-stop, which is part of the attraction. It's not a place to relax and enjoy a quiet beach, it's more a place to have fun, dance, and people watch.
5. Pou des Lleo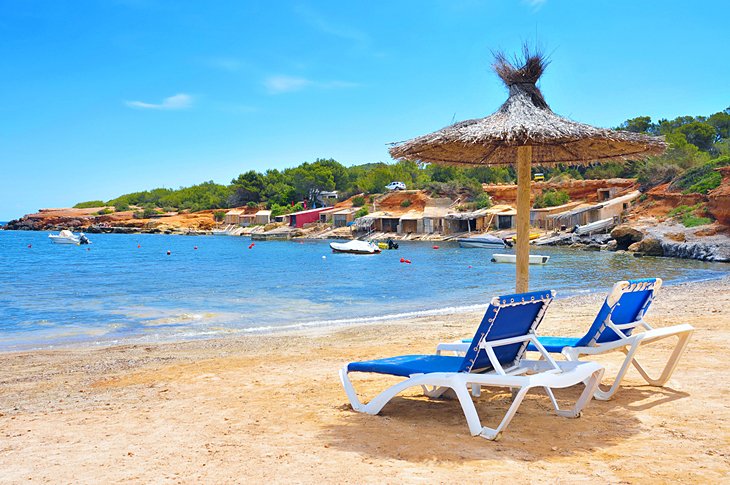 In a secluded cove northeast of the town of Santa Eulalia, Pou des Lleo beach is like a postcard come to life. The small horseshoe-shaped cove is surrounded by low red cliffs. The water is clear, and this beach is popular for scuba diving and snorkeling.
The tourists enjoying this secluded beach are joined by local fishermen, who moor their fishing boats on one side of the cove. Your only food options are a tiny snack bar or a small beach restaurant known for its fresh fish and paella (Spanish fish stew).
The beach is about 30 minutes from Ibiza Town. It's a great beach to visit while you're sightseeing around the island.
6. Cala Pada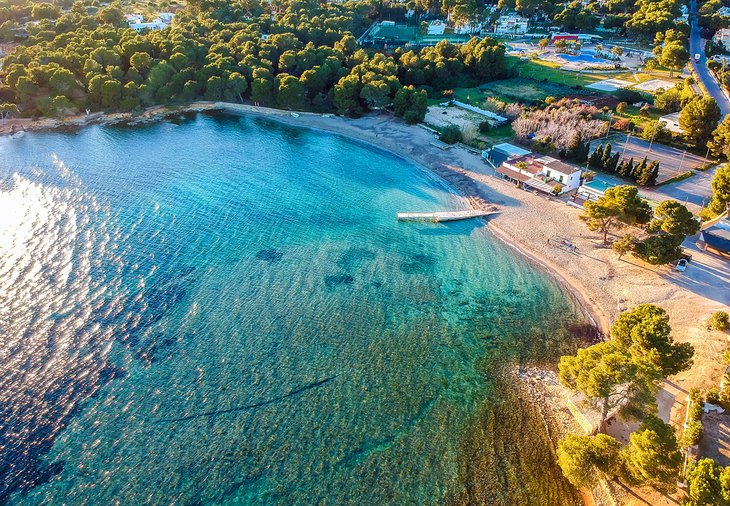 On the island's east coast, near Santa Eulalia and Es Canar, Cala Pada is one of the island's best undeveloped beaches.
There are a few snack bars but not much else. It's a small, sandy beach that slopes downward towards the water. Except for August, it's usually fairly empty and is a nice place to have a more pure beach experience than some of the party beaches.
7. Cala Jondal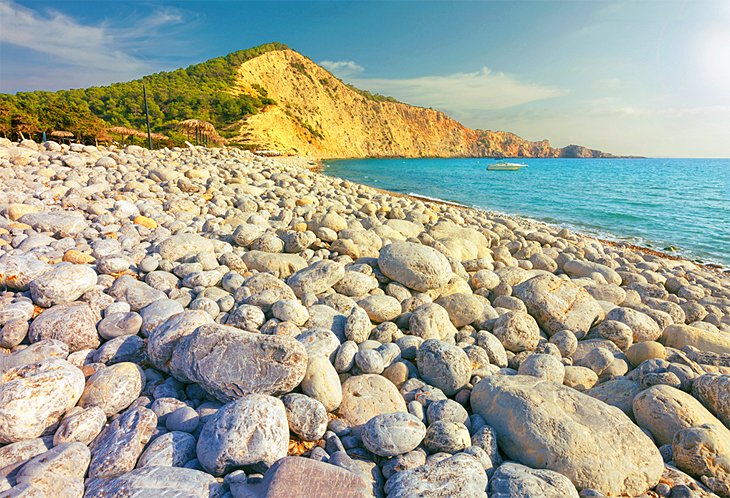 Cala Jondal ("Cala" means beach in Catalan) is a wide stretch of beach, surrounded by steep cliffs and pine forests. It's on the southeast coast of Ibiza, near San Jose, about 15 minutes from Ibiza Town.
Much of the beach is made up of huge pebbles (they're hard to walk on without beach shoes), but the south end has a lovely stretch of golden-colored sand (this end is better for families). At the other end, there's a few fancy restaurants and cafés. The water is bright turquoise, due to the white sandy sea bottom in the bay.
You can drive to Cala Jondal or make a statement by arriving via yacht. Many members of Ibiza's yacht crowd enjoy the cove: they anchor their yachts in the bay and come ashore to enjoy the sand and scene.
8. Cala Tarida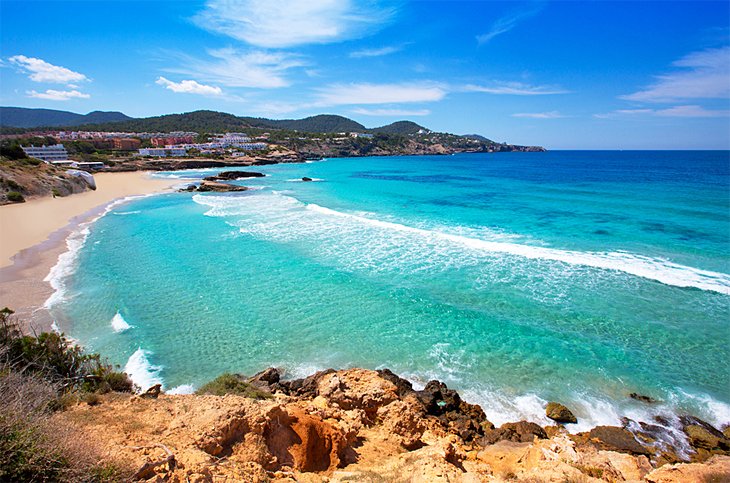 Cala Tarida is a beautiful, wide beach on the west coast of the island, near San Jose. It's a long stretch of beach with fine white sand and strikingly beautiful blue-green, calm, shallow water. The ocean has big, flat rocks a few yards offshore, which are a popular spot for sunbathing.
There are umbrellas and beach chairs for rent and there are a few beach shops, restaurants, and cafés along the seafront.
It's a good beach for playing on the sand and in the sea. Lifeguards are on duty, and you can rent beach volleyball courts and a range of water sports equipment.
9. Portinatx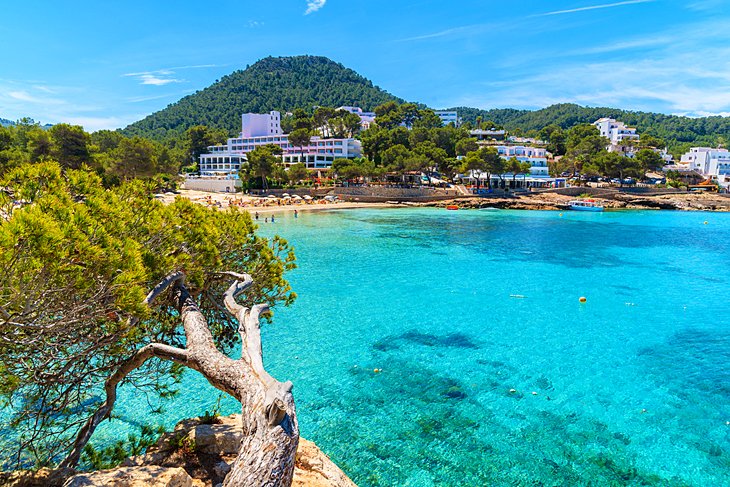 Portinatx is a more family-friendly resort town on the north part of the island. The area has three main beaches (S'Arenal Gros, S'Arenal Petit, and Playa Porto), and all are quite beautiful. The Portinatx beaches are much less visited than the beaches around Ibiza Town, so it's not very crowded, even during the busy summer season.
The largest beach (not huge, it's less than a football field in size) is called S'Arenal Gros. Around the rocks is its little brother, S'Arenal Petit. Both are beautiful, with flat sections of white sandy beach.
The third beach is Playa Porto, which is more like a little fishermen's village. It's in a cove, surrounded by cliffs. Tourists share the space with fishermen and their boats, and there's a lighthouse there, too. S'Arenal Gros has some small restaurants and cafés, along with beach chair and umbrella rentals.
10. Sol D'en Serra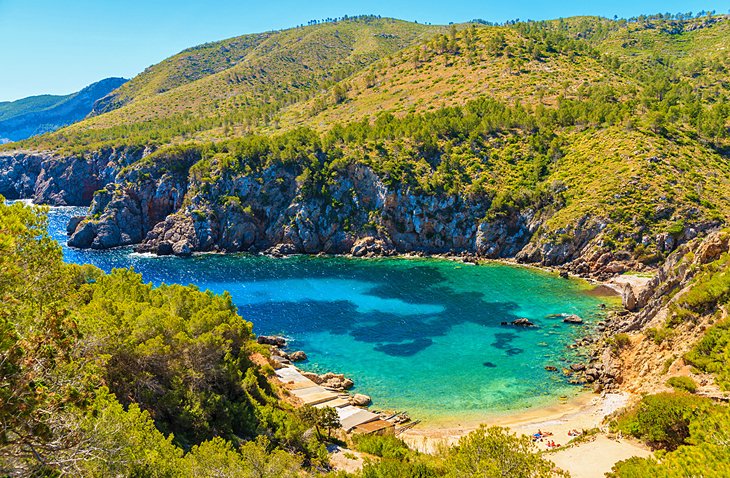 Sol D'en Serra feels and looks a bit like Hawaii. It's nestled in a secluded cove, almost completely surrounded by mountains. Just past the curving, pebbly beach, there's one small mountain rising up dramatically, like a mini Diamond Head.
A few sections of golden-sand beach gently slope down to a bay with bright aqua and turquoise water. The water is gentle, as the cove is very protected, making it like a giant swimming pool.
There are a few small cafés and restaurants, along with beach chair and umbrella rentals. The area feels more like part of a private resort than a public beach. It's about 20 minutes from Ibiza Town, near the larger (and more crowded) Cala Llonga beach.
11. San Miguel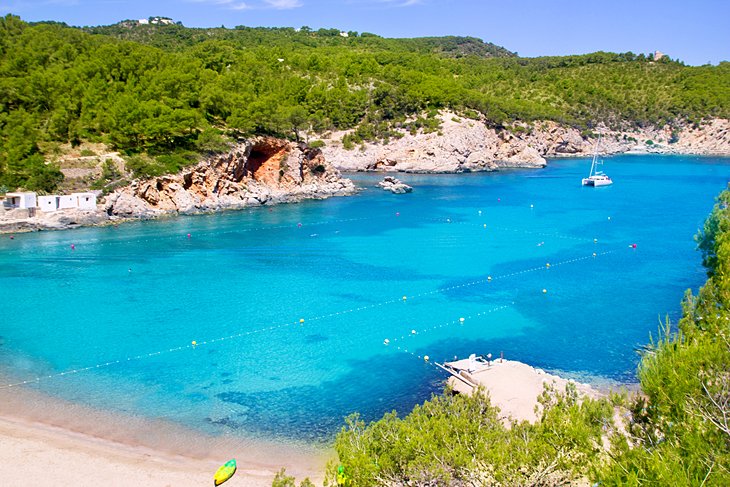 Close to the iconic Benirras Beach, San Miguel is more of a family resort. It's on the northern edge of the island about 30 minutes from Ibiza Town.
There's a beautiful sandy beach, nestled in a cove with cliffs on both sides, and a nice selection of boutique hotels and restaurants. It's on the north coast, away from the craziness of the southern beaches, so it's relatively quiet even in high season.
12. Figueretes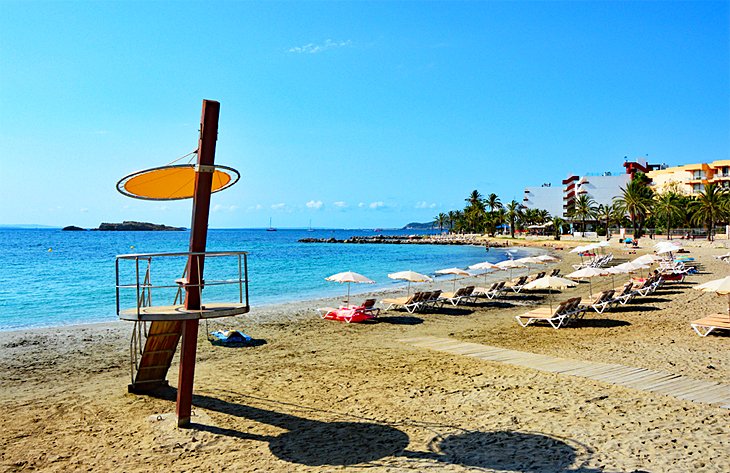 Figueretes feels and looks like the Nice of Ibiza. It's an authentic Mediterranean resort, with miles of wide, white sandy beaches, joined together by a beachfront promenade fronted by hotels and apartments.
It's the closest beach to Ibiza Town (a 10-minute walk), so it's also popular with locals. The beach is lined with luxury hotels and apartments, along with restaurants and shops. The water is shallow and warm, and the views are great, too, you can see all the way to the neighboring island of Formentera.
13. Cala Xarraca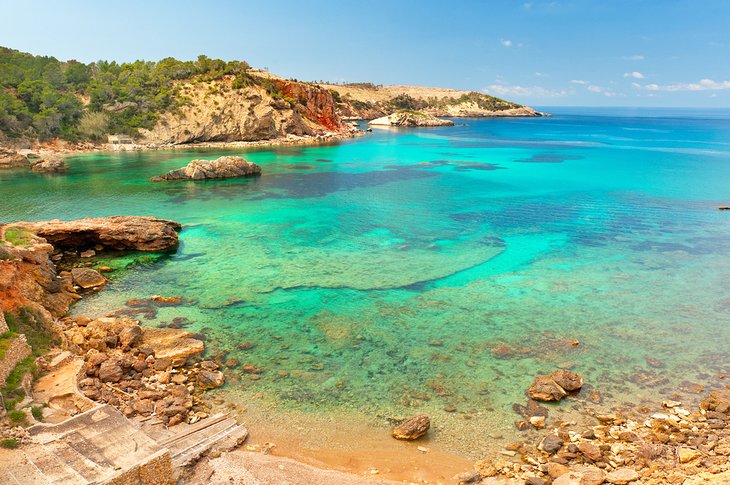 While Ibiza lacks any beaches with colored sand (Formentera does have one beach with pink sand), it does have beaches with some beautiful water colors. Cala Xarraca, located on the northeastern tip of the island in San Juan, has crystal-clear water that has a beautiful green color to it.
The tiny, remote lagoon is great for snorkeling, kayaking, or just floating in the colorful water. There's also a mud bath on the left edge of the beach that gives you a self-service spa treatment you would have to pay hundreds of dollars for in one of the local luxury resorts.
The middle part of the Cala Xarraca beach has a small café, and most of the visitors congregate here. The two beach areas on either side are clothing-optional. You can rent sun loungers and umbrellas along with some water sports equipment on the beach.
14. Cala de Sant Vicent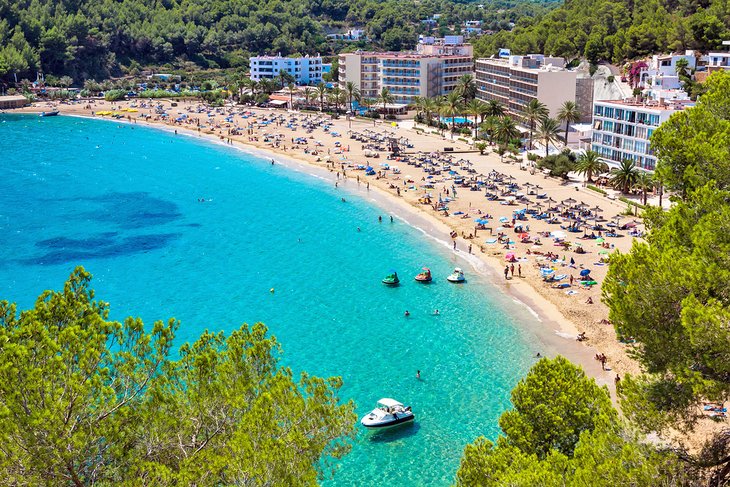 If you're visiting Ibiza with kids, the most family-friendly beach in Ibiza is Cala de Sant Vicent. The beach is safe for swimming, as it's on a protected bay with little or no current. The designated swimming area is roped off, and there are lifeguards on duty.
The beach can be crowded, but it's big, and you can usually find space at either end on busy days. There are umbrella and chair rentals, and some of the resorts have designated areas for their guests. You can also rent beach toys and water sports gear like rafts and kayaks.